ACID PRO 6 + New Roots Reggae Loops (SONY)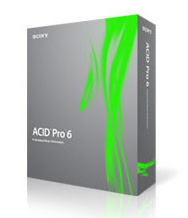 So, this being said, I hope you all understand that the following is not being *projected to, for or by professional sound engineers. This is more of a source for the layman or geared towards those of us in the film biz that have on occasion the opportunity or challenge to step outside of our prescribed work designations  only to return wishing there was some sort of tool that would have made that experience easier….and perhaps less embarrassing. The jump from transport to modern interpretive jazz dancer being overlooked, I now return us to the previously mentioned scenario.
The challenge: to come up with a digital interface that would be used by a media junkie that creates mixed digital collage.

The environment: PC
A basic design rife with various input sections ie
-scanner device animation
-internet image capture animation
-digital cut and paste animations in main field
-underground pirate radio with eq animation and
very scary and street cred Jolly Roger logo

As the animation was nearing completion, I realized that there was no sound to go with it, which when doing the majority of Flash in film is standard fare. This was a presentation however and I need to create the extra ambience for the viewers to get my overall idea. With little time left and next to no knowledge of sound engineering or mixing and absolutely no license or rights for appropriate tunes, what could I do other than acapella my way through the meeting…..or use the tools afforded me.
Acid Pro, has always been a title that meant:  "don't even try, this understanding is beyond you", however, when faced with adversity or challenging odds I like to resort to modern interpretive jazz moves. Well, I would if I could, so instead I sat down and created a score.
An original score, consisting of one dub style tune complete with radio intro and looped snippets of Sarah Polley on CBC radio, discussing censorship and Bill-C10. (Please refer back to the asterix in the first sentence.) Without any background or any tutelage, I was able to intuitively follow the graphic user interface and compose the piece in a matter of 25 minutes. Create, compose and cultivate to acceptable and listenable quality. I could have stayed and worked it out all day but I had not the time.
The point is that as a graphic designer/digital designer, motivated mainly by visual cues and miscues, for the most part, Sony has created software that triggers those base elements in order to allow non audio pros the chance to create. Technical details will come later, but not in this review, the main premise is: can this tool be implemented in the production department/ art department easily enough to allow us to a) save money on licensing music b) save time on clearing a band and c) give us a tool to enrich our graphic products that we create from anything web-based to animation based to intro based? The answer is yes.
We are bringing this info to the non audio aficionado on a very base level who need not know about khz or baud rates or clicks and hums or quantization. We simply need to know if this product will fulfill our need easily and quickly enough…and the answer again is yes it can.

Mixed with the already impressive amount of included loops and samples, you can create original tunes straight out of the box, we however were able to explore the fantastic collection of NEW ROOTS REGGAE loops and samples to elevate the quality and authenticity of our song. KEY WORD: AUTHENTICITY. Many sound plug-ins and loops sound like that, they have a very sterile and clipped sound to them and therefore end up belonging on the muzak hits of the 80's compilation series.
Nah sir, this collection especially carries a very warm and true to dub quality. The track selection, like all of the Sony selections, have been compiled and chosen by those in the field/genre that know what works and does not work. You could take the sound of lederhosen exploding and within minutes have it sounding like a track from The Clash, Give'em  Enough Rope, Sandinista or Combat Rock (RIP Joe Strummer). The New Roots Reggae collection includes bass lines; dub sound effects, guitar, and organ and drum sequences, well worth your time. And so easy to handle.
(Bill C-10 Polley dub to be uploaded in the next 24 hours)
This is the first of many audio reviews, many thanks  to SONY CREATIVE SOFTWARE and the fine people at BENDER. (Sean Moore)
AS IT STANDS ACID PRO: 8.5/10 ---------------NEW ROOTS REGGAE:9/10