Toon Booms' Story Board Pro Review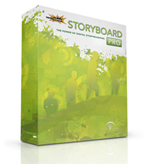 Toon Booms Storyboard Pro has very quickly found another addictive personality to infuse with its jolly green personality. It is a program that makes one feel right away like a cool and unlikely hero who spends his day job drawing out the logistics of films, tv shows and cartoons and his nights as a Matthew Modine style, comic book loving martial arts expert with a love interest way out of his league.
Toon Boom Storyboard Pro 1.5, from here on referred to as TBSP (well what else would you name it for convenience sake? Roger, or Toon Booms Application of Death??-that makes no sense) TBSP it is.
As it is, it is a very convenient program, hailing mostly from a background in animation, the terminologies and what not are not all standard filmic terms. This shouldn't make a difference until one starts using the action library and sees items such as Note:OL/UL, which as you guessed puts a note on the screen that reads: OL/UL. Hmmmm where are my zoom in/out arrows that usually reside in the corners? Small hindrance that, unless you zoom in really close. Then it looks f#©king huge. You can add your own action templates etc to the libraries for safe keeping and repeated use or add notes in th annotation panels.
TBSP also has a very efficient feature called Camera transform which is a fantastic visualization tool used to show the actual movement of your camera around the object in the panel/shot.: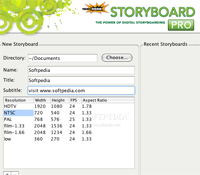 There have been many styles of animation over the years and as much as we like to progress and evolve and create animation that looks more and more like the real thing, in recent polls , standard/traditional 2d, cel animation still seems to garner the most interest amongst industry types, which puts another feather into the cap of Toon Boom.
As vibrantly drawn and colored as this feather may be, it is the fact that Toon Boom is a Canadian product that puts them at the top of my interest and support advocacy. Right there in Montreal....hmmm all engines readjust coordinates to the belle provence containing UbiSOFT, AutoDesk, Softimage, EA and Toon Boom.
Speaking recently with members of the company, I have been informed of their intention to incorporate the importation of various moving media into their panels such as .mov, avi and perhaps others. They seem pretty open to creating a product that stems from the needs of the industry, much like Corel. Although TBSP is at first glance geared towards the traditional animation mind set, there are plans to fine tune it for live action, computer, gaming and webdesign even more so than it already is.

The Program begins easy enough with a media setup, aspect ratio, title sequence and screen output and offers 3 very easy to follow tutorials. You can choose to draw, scan or use templates for your storyboards and the fact that the panels have layers ,allows you the ease of designing background as well as foreground. Take this and the voice annotation and script import directly from Final Draft option and you have a complete package for realizing the structure of your production. In the meantime, Guild members can get the following pricing now too:
1-Any member of the Directors Guild of Canada can fill in the attached quote which will allow them to purchase a copy of Storyboard Pro at the price of CDN$799.99 plus $180.0 for 1 year of support, maintenance and upgrades. (We have a promotion now that will end in 2 weeks however for Guild Members this promotion will continue until end of September 2008).

2-If the Directors Guild can form buying groups for 5 or more copies at a time, Toon Boom will offer an additional 5% discount (CDN$759.99) on the above offered price for Storyboard Pro.

3-For orders of 20 Storyboard Pros or more we will offer support, maintenance and upgrades and 25% (CDN$135.00) of the quoted price for support.
Now lets get back to the beef, have I mentioned that TBSP also allows you to import bitmaps as well as vectors, all of which will be automatically converted into vectors? I though not. But Toon Boom did.....and it does. The brush tools will also allow texture and gradients to be applied, and although the file size increases, it still remains workable in vector form.
Can it get any cooler? I mean seriously, can it? Because of the inherent resizeability that we all lust for in vectors, the painless increase and decrease in size without the use of pumps, mistimed oral treatments and embarrassing bouts of cold pool water; you can draw your entire set way out of bounds of the chosen frame size.(<THIS BY THE WAY IS A RUN ON SENTENCE-YA DIG?)
Then like you would on a real set with a real camera and dollying and tracking and panning and zooming, set about your movements in and out and across the expanse of your project, keeping it all in order with frames or with animatics and transitions. Throw in some sound envelopes on any number of additional tracks and you got's yourself a moving picture.

Story Board in Action: Grant Jeffrey
In actual fact, it is quite possible to create entire productions in this method or by utilizing one of the other products offered by Toon Boom. One of the attendees at the recent seminar in Sudbury has done just this sort of thing. Although it remains unknown as to what his actual workflow consists of, one can guess. We do know that the only tools used were Photoshop and Toon Boom, we hope to provide a workflow diary from him in the days to come. He was awarded 2nd place in the 2007b edition of Cinefest Sudbury International Film Festival for the Open Category and 1st Place in the Student Category:
Grant Jeffery is an aspiring filmmaker, actor, and artist currently attending Lively District Secondary School. His animated work tends to reflect the frailty of human realities and borrows heavily from history and mythology. Grant plans to pursue a career in film and hopes to be accepted in Sheridan College's BA of Animation Program this fall.
Here are some of the stills from his piece ASHPHODEL MEADOWS :