First Look:
Assassins Creed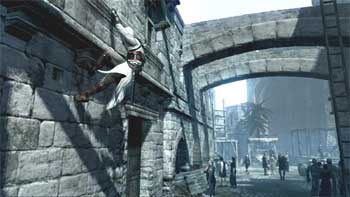 Imagine if you will, Prince of Persia, Grand Theft Auto and Splinter Cell as a screenplay for a movie about righting the wrong in a violent and justified manner. A screenplay embracing the visceral and the primal meting out of revenge in the name of a better world. The ability to scale walls, jump from rooftops and fly into the night with flashing blades in hand, or perhaps dispatching those in need of dispatching and within seconds melding into the crowds around you unnoticed. This game takes you into another time and world.
This game allows one to feel the freedom of a world bred upon violence in a biblical time and in a lightning footed way. You traverse sprawling spaces in a manner that is exciting and immensely enjoyable, yet without the aggravation of "jumping puzzles" or "unfun" climbing levels such as the ones that have stalled my progress in a certain Prince of Persia release.

The cinematic nature of the landscapes and the wide open regions of wilderness are just the beginning of electric scenery. The swan dives, or jumps of faith are some of the most harrowing and memorable experiences in any game that I have experienced. This is definitely the type of product worthy of a screenplay.
Gaming

cinematic experience:85%
audio:75%
video:85%
overall design: 85%
sets:90%
characters:85%
story:85%
play:90%
replay:25%
next gen ranking:85%
AS IT STANDS:
8.2/10