TAKE 2
Burnout : Paradise
I strain to make out the name of the street as it flashes by in a refelective blast of sunlight, I glance up at my nav indicator and realize that I am heading off my coordinate. I notice the deeprumble of my car is now a solitary one. Where have my pursuers gone? The maniacal clicking of my turn indicator clues me in to something. I should have gone right at the last lights. My priority drops from first to second to third, but I'll be damned if it goes to fourth. I make furtive glances at my onboard gps and find a shortcut through the railyard. Now, where is that gate? BOOM! my adversary had the same idea as he t-bones my vehicle en route to the short cut.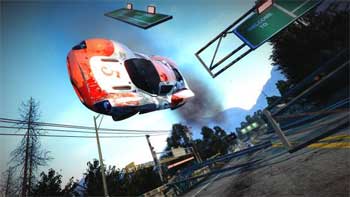 I don't know if you have ever played hide-and go seek or capture the flag in a vehicular sense, but this is as fun as that. The more I sink into the tightly woven ceramic seat cover of my stunt class automobile, the more crucial the nav controls become to me. It's all great smash and run, with ferocious freeway jousts and piston pumping straight-aways, but you'll never get the best time or even get THERE if you don't pay attention to details. This explosive race game sets your nerves a jangle as you narrowly escape being dumped into the many aqueducts or retention ponds that dot the landscape of Burnout Paradise. The more you cheat wreckage the more you push yourself. The game really creates a layer of vigilance in the participants by adding all of the navigational tools. Once you get past the sheer joy of speed and bleed, you come back for a greater and far more discerning approach.
I just keep getting more and more entrenched in the glory that is this title.
Key Features
Explore Paradise - From big-surf beach, to downtown gridlock, there's over 30 square kilometers of the ultimate driving playground to explore from the get-go. Nothing is blocked off.
Burnout Your Way - Just pull up to over 120 stoplights and spin your wheels to start one of five different events - the classic Race, Road Rage and Burning Route, and the all-new Stunt Run and Marked Man games.
Instant Online* - Burnout Paradise sets the new standard in online social gameplay. See your friends online with the EasyDrive Friends List and connect with them instantly without having to wait or exit your game.
Team up or Takedown™* - Join forces with up to seven of your buddies to beat hundreds of online FreeBurn Challenges together or heat up the competition and go head-to-head in user created race routes.
Road Rules - Make and break the rules of each road by setting speed and destruction records all over town. Track how many you own against your friends!
Mugshots - Track the length and breadth of up to 2,500 online rivalries. In your moments of victory, grab mugshots of opponents who have connected PLAYSTATION®Eye and Xbox LIVE® Vision cameras. Gloat over them even more in your trophy room or export** them for ultimate bragging rights!
Speed, Speed and Even More Speed - The rebuilt, race-tuned Burnout game engine delivers intense speed boost gameplay at a super-smooth and super-fast 60 frames-per-second.
Showtime: Crash Anywhere, Any Time - Feel like bringing chaos to the streets of Paradise? Send your car wrecking, spinning and scraping down the road, smashing through traffic and leaving a trail of expensive wreckage in your wake.
Crash Deformation - Burnout Paradise features an all-new deformation technology that gives players an astounding close-up and slow-motion view of super-real destruction.
Cars - Muscle cars, exotics, hot rods and even supercharged SUVs, engineered to look beautiful whether they're brand new or mashed into scrap. Choose from stunt, speed or aggression car classes, each built with their own unique boost ability to give you the upper hand for specific challenges. Shut down roaming rivals and rack up wins on your license to strut the streets in a wide selection of unique rides.
Take it Aerial - Go airborne and pull boost-earning barrel rolls and spectacular mid-air spins. Find the hidden jumps to reach secret rooftop routes and 120 smashable Burnout Billboards.
Driver's License - Start with a Learner's Permit then rack up wins to progress all the way up to a Burnout Elite Driver's License - the ultimate accolade for any safety-unconscious motorist.